Benefits of FermZilla All Rounder over other fermenters –
Multi-purpose usage
The design makes it ideal for fermenting and kegging your Beer, Mead, Cider, Kombucha and Wine in one unit
Easy to Clean
It is made from the smooth PET making it easy to clean and wipe out any leftover sediments. Just soak it in a cleaning solution for a few minutes and wipe it clean. No scrubbing required.
Wide opening
The opening at the top is 120mm which is significantly larger than the regular PET carboys or other similar fermenters. This large opening gives you more room to reach the top making cleaning even easier.
Pressure Rated
This fermenter is rated up to 2.5bar so you can force carbonate just like a keg. You can use this fermenter for closed transfers and significantly reduce oxygen exposure.
Visual Appeal
The wall of the All Rounder is brilliantly clear so you can see what's going on inside. This makes it very easy to determine visually how the fermentation is how the yeast is settling etc.
Rigid, Impermeable and Durable
It is near impossible to damage this product as compared to the glass carboy. The tank is impact resistant but light weight and easy to use. The PET plastic is not permeable like some other fermenters made from PP or HDPE. The fermenter wall is a much better gas barrier keeping your product fresher for longer.
Flavor and Odor free
Other HDPE fermenters tend to be so pourous they carry flavour and aroma from one batch to another. This high quality plastic keeps away from carrying over any odor and flavor.
Important Note – Please do not use this tank for hot liquid. Especially, any liquid over 50C. It will melt the tank.
We would also like to point out that the photos are of the FermZilla – All Rounder 30L with a red plastic pressure kit. Those items are not included in the standard kit. Please refer to the topmost section for the items included in this kit.
Description
This "All Rounder" tank is the perfect fermentation vessel that can be used for fermenting under pressure, carbonating and dispensing. It's far more capable than the FermZilla Flat bottom but it's less complicated and less expensive than any Conical Unitanks.
We recommend using a pressure kit if you want to use this product under pressure.
Dimensions –
Diameter of the tank – 352mm/13.85"
Height of the tank – 507mm/19.96"
Height with Airlock – 569mm/22.40"
Tank size – 30L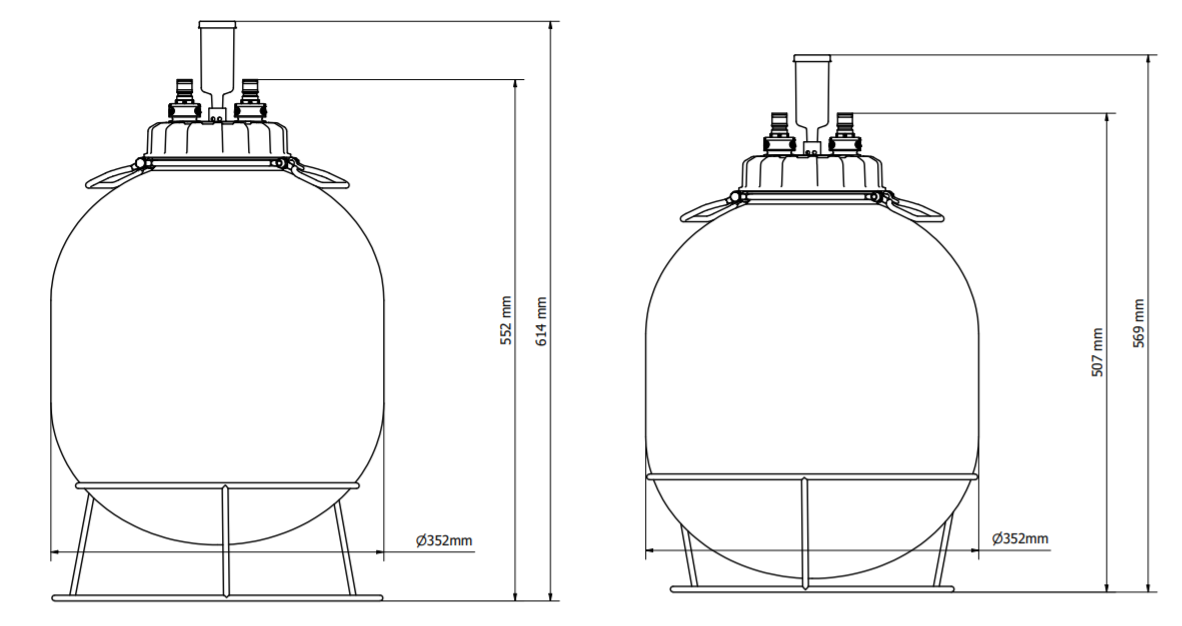 Note – Please read the instructions thoroughly before use. We will not be held liable for misuse or
mishandling of the unit contrary to the instructions.
When using this vessel under pressure. You must perform a water pressure check to ensure your connections are leak proof. To do this. Fill your FermZilla up with water, then apply a minimum of 15psi pressure to the vessel. Check for leaks around all Cap / Threads.
Occasionally these units may come with some small indentations/dimples/dents from shipping, this is just a reality of shipping large blow-moulded thin-walled vessels. But don't panic, these fermenters are designed to endure minor deformations such as this. This was a necessary implementation into the design so that they can withstand some accidental suction from cold crashing and rough handling in transit without compromising their integrity and ability to endure high pressures. All small dents will push out and settle with use and positive pressure and are only an issue and warrant replacement in the rare event they start to show white stress patterns or have damaged the plastic.